This morning's smoothie was set up for my husband's jaunt off on his bike for a few miles and back. It's sunny but cool. He's just finished a Longevity class from the local ElderCollege and is keen on incorporating the Ayurvedic herbs into his daily diet. This
Thickalicious Pineapple Upside-Down Cake Green Smoothie With *Benefits
is a mouthful, in more ways than one. Like my othersmoothies, this contains rolled oats to sustain him from hunger pangs on the trip, chia seed to give him great bursts of energy and perseverence, pineapple, banana, dates and coconut for that smacking good taste (and all those phyto-nutrients), and ashwagandha and turmeric for the Ayurvedic *benefits: improved immune system, brain power, longevity!
Layer the following in a blender carafe
(you might want to do two half-batches if you have a regular blender):
2 C. Frozen Pineapple chunks (or Fresh)
1 C. Rolled Oats (buy Gluten-Free if you are coeliac or sensitive to wheat / gluten)(Presoak in 1 C.of Water if you have the time)
1 Banana in chunks (Frozen is great)
6 Pitted Dates (I used Medjool but use what you like / can find)
1 T. Chia Seed ground in Coffee Grinder or 2 T. Chia Seed Gel http://techygran.hubpages.com/hub/How-To-Make-Chia-Seed-Gel-and-How-To-Use-It
1/4 C. Coconut Shreds
1 tsp. Ashwagandha mixed with 3 T.*Coconut Sugar or 1 packet of stevia
1 tsp. Turmeric
Large handful Tender Greens of Choice
1 C. Filtered Water, or as much as you wish. Letting the contents of the Carafe sit for about 15-30 minutes is a good idea for the chia (chia gel) and the oats.. makes digestion easier.
Whirl up and drink right away!
You are going to feel satisfied and won't be given to the usual cravings, probably right up until lunch time!
UNIQUE UKRAINIAN FOLK-PAINTED *FANNY CAT* TREE ORNAMENT
SHOPETSY
<CLICK
NOW WHAT IS THIS?
WHY, A DELICIOUS AND PRETTY HEALTHY CHOCOLATE-MAPLE WALNUT
DIY VEGAN ICE CREAM SUNDAE!!
Click on picture for more information...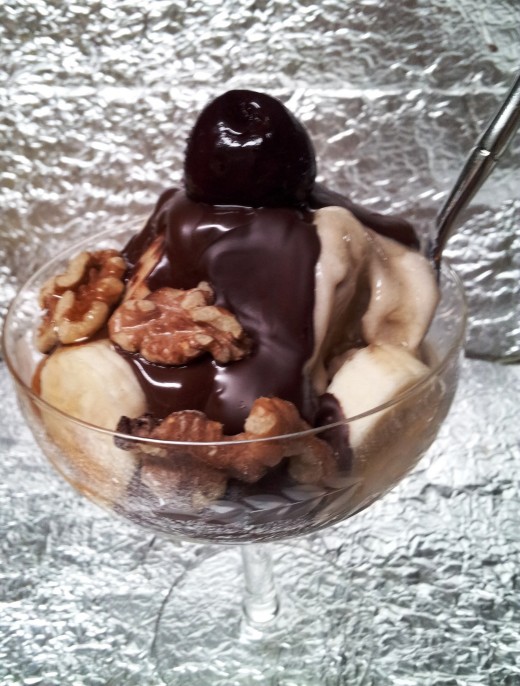 Chocolate-y no-churn vegan ice cream sundae... for the recipe click HERE or on image